Information Centre
Categories
Examinations
Statement of VIPs
Excerpts from President Obama's Nobel Peace Prize Speech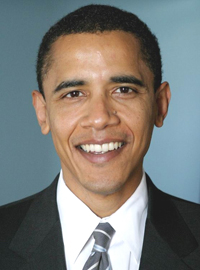 Your Majesties, Your Royal Highnesses, Distinguished Members of the Norwegian Nobel Committee, citizens of America, and citizens of the world:

I receive this honor with deep gratitude and great humility. It is an award that speaks to our highest aspirations - that for all the cruelty and hardship of our world, we are not mere prisoners of fate. Our actions matter, and can bend history in the direction of justice.

One urgent example is the effort to prevent the spread of nuclear weapons, and to seek a world without them. In the middle of the last century, nations agreed to be bound by a treaty whose bargain is clear: all will have access to peaceful nuclear power; those without nuclear weapons will forsake them; and those with nuclear weapons will work toward disarmament. I am committed to upholding this treaty. It is a centerpiece of my foreign policy. And I am working with President Medvedev to reduce America and Russia's nuclear stockpiles.

But it is also incumbent upon all of us to insist that nations like Iran and North Korea do not game the system. Those who claim to respect international law cannot avert their eyes when those laws are flouted. Those who care for their own security cannot ignore the danger of an arms race in the Middle East or East Asia. Those who seek peace cannot stand idly by as nations arm themselves for nuclear war.

The same principle applies to those who violate international law by brutalizing their own people. When there is genocide in Darfur; systematic rape in Congo; or repression in Burma - there must be consequences. And the closer we stand together, the less likely we will be faced with the choice between armed intervention and complicity in oppression.

This brings me to a second point - the nature of the peace that we seek. For peace is not merely the absence of visible conflict. Only a just peace based upon the inherent rights and dignity of every individual can truly be lasting.

It was this insight that drove drafters of the Universal Declaration of Human Rights after the Second World War. In the wake of devastation, they recognized that if human rights are not protected, peace is a hollow promise.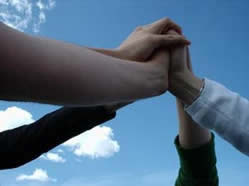 And yet all too often, these words are ignored. In some countries, the failure to uphold human rights is excused by the false suggestion that these are Western principles, foreign to local cultures or stages of a nation's development. And within America, there has long been a tension between those who describe themselves as realists or idealists - a tension that suggests a stark choice between the narrow pursuit of interests or an endless campaign to impose our values.

I reject this choice. I believe that peace is unstable where citizens are denied the right to speak freely or worship as they please; choose their own leaders or assemble without fear. Pent up grievances fester, and the suppression of tribal and religious identity can lead to violence. We also know that the opposite is true. Only when Europe became free did it finally find peace. America has never fought a war against a democracy, and our closest friends are governments that protect the rights of their citizens. No matter how callously defined, neither America's interests - nor the world's -are served by the denial of human aspirations.
United Nations Secretary-General António Guterres remarks at Human Rights Day Event, 10 December 2018.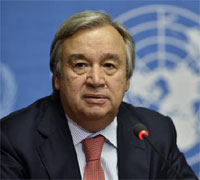 For 70 years, the Universal Declaration of Human Rights has been a global beacon – shining a light for dignity, equality and well-being … and bringing hope to dark places.

The rights proclaimed in the Declaration apply to everyone — no matter our race, belief, location or other distinction of any kind.

Human rights are universal and eternal.

They are also indivisible. One cannot pick and choose among civil, political, economic, social and cultural rights.

Today we also honour the human rights defenders risking their lives to protect people in the face of rising hatred, racism, intolerance and repression.

Indeed, human rights are under siege around the world.

Universal values are being eroded. The rule of law is being undermined.

Now more than ever, our shared duty is clear:

Let us stand up for human rights — for everyone, everywhere.

Thank you.



Excerpts from the Speech of United Nations High Commissioner for Human Rights Ms. Michelle Bachelet on the occasion of Human Rights Day, 10 December 2018.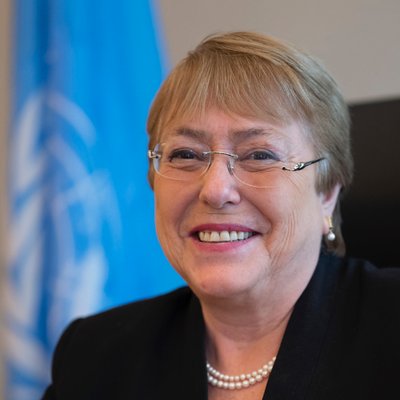 Excellencies,
Colleagues, Friends

Seventy years ago today, the world's States recognised, for the first time, that all people have universal human rights and they promised to promote and protect those rights.

This was the lesson that States learned from the horror and devastation of the terrible wars the world had ever known. The right to equal protection of the law. The right to life, liberty and security of person. The right to education, to healthcare, food, shelter and social security. The right to be free from any form of discrimination. The right to freedom of expression and the right to privacy. The right to freedom of thought, conscience and religion. The right to due process and fair trial. The right to be free from torture, and from unlawful or arbitrary arrest or detention.

The force of these and other fundamental rights binds us together as human beings, regardless of our sex, race, belief, sexual orientation, nationality, migration status or any other factor. We share a common destiny, on this planet where we live. We share the core values and principles enshrined in the Universal Declaration, which are essential to the maintenance of our mutual peace, prosperity, and sustainable development.

To create the conditions for a new and more enduring peace, they recognised these rights as intrinsic to every human being and acknowledged that no authority can legitimately strip them away.

In successive decades, the world's States drafted treaties and conventions to give their commitments the force of law. They set up institutions to help them live up to these commitments. It was not naïve idealism that drove them, but rather the recognition that these form the strong foundation of a more peaceful world.

States have not always upheld the commitments they made 70 years ago: many horrific tragedies have occurred, and should never be forgotten. But overall, a new and unprecedented wave of freedoms has enabled great progress in almost every society, as women and men rose up, inspired by the Universal Declaration, to demand their human rights.

Today, the world is making another, important collective commitment to human dignity and rights. The Global Compact for Safe, Orderly and Regular Migration is a vital human rights document. It demonstrates not only that multilateral cooperation is still possible, but that it leads to better outcomes than isolationism and disdain for others.

At a time of heightened anxiety and the changing realities of a globalized world, when some view migrants as convenient scapegoats for political gain, the Compact reminds us that the human rights of all migrants must be "respected, protected and fulfilled at all times". The Global Compact inspires us to greater international cooperation and collective efforts to end conflicts, reduce inequalities and ensure greater freedom and opportunity for all.

Hungry, desperate human beings seeking safety and dignity necessary to life are not a hostile invasion or a catastrophic tidal wave. They are victims, not perpetrators; they are people just like us -- tired and in need. And they are moving – many of them – because they have no other realistic choice.

Although no State is bound to accept every person who arrives at its borders, all human beings are bound by the imperative of compassion.

Blood has one colour. Pain is the same, no matter what language we scream in. We are equal, all of us -- regardless of the location of our birth, our gender, our race, ethnicity or belief, our disability status or our possession of specific administrative documents.

This conviction – and the basic respect, which flows from it – is essential to constructing cooperative solutions, in peace.

The principles of the Universal Declaration of Human Rights -- forged in crisis -- are especially valuable as a guide to the steps, which lead societies away from conflict, inequality and turmoil.
Seventy years ago, the world's leaders brought their nations back from the brink of total destruction, and they did so by constructing a series of commitments to multilateral cooperation and to universal values.

These are the values, which can safeguard our world today. The Universal Declaration is a living document, just as powerful and valid today as it was in the ashes and rubble of global destruction.

May it guide the world's nations to greater peace, dignity and justice in the years to come.


Speech by Shri M. Venkaiah Naidu, Honourable Vice President of India at the Human Rights Day, organized by the National Human Rights Commission, in New Delhi on December 10, 2017.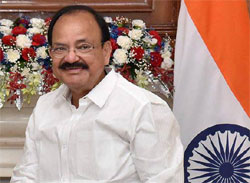 I am happy to be with all of you this evening for celebrating the Human Rights Day. Human rights are rights inherent to all human beings without discrimination. Human Rights Day, observed on 10 December every year commemorates the day on which, in 1948, the United Nations General Assembly adopted the Universal Declaration of Human Rights (UDHR). This has been a guiding document to guarantee the rights of every individual without discrimination and one that would serve as a valuable ally to the UN Charter in ensuring global peace and security.
The human rights discourse has assumed great importance especially in the last few decades, with human rights being viewed by governments and civil society alike, as indispensable to the realization of development goals, including the 2030 Agenda of Sustainable Development Goals (SDGs).
The arena of human rights and social justice has gradually expanded over the decades to include among others, the right to healthcare, education, food, forest rights for indigenous communities as well as policy-level interventions in the form of affirmative action for the historically marginalized and discriminated. Further, issues of gender, youth, the differently-abled, and the elderly are also recognized as important human right concerns today.
India has been unequivocal in its commitment to the preservation and protection of human rights globally as well as within the country. It is a signatory to several of the core international human rights and International Labour Organizations (ILO) conventions.
Our commitment for human rights is part of our culture, from time immemorial it always respected others Human Rights. We have a noble saying called "Sarve Janah Sukhino Bhavantu," We believe in the principle of "Vasudhaiva Kutumbakam- The entire Universe is one Family".
Civil rights, Minority rights and others are guaranteed in India not just because they are in the constitution, they are guaranteed because they are part of our DNA.
"Secularism which got included in the constitution at a later stage is ingrained in our DNA from the beginning," India as a country has no history of aggression of any kind. We tried to assimilate all the people who have come here.
In addition to being a signatory to these important human rights conventions, our country's Constitution has given a robust human rights protection framework. An independent judiciary, free media and an active civil society and a number of independent human right bodies, such as, the National Human Rights Commission provide a vigorous and effective network for human rights protection and an effective system of checks and balances.
The establishment of urban and rural local self-government, notably the three-tier Panchayati Raj System is also a crucial component of this human rights protection framework, for it has taken development, human rights, and social-economic welfare down to the very grassroot level. Local self-governance in India has opened up new vistas in women's empowerment and the participation of historically marginalized groups such as Scheduled Castes and Scheduled Tribes in local governance/public affairs, thus, bolstering our shared vision for the realization of human rights and human empowerment.
Women constitute 33% in majority of local bodies, and 50% in many of the state. I believe in the coming days we will have considerable representation even in the legislature and also in Parliament.
It was in keeping with the Universal Declaration of Human Rights, 1948 and the endorsement by the General Assembly of the United Nations through its Resolution of 20 December 1993, that countries across the world established their respective National Human Rights Institutions (NHRIs). The National Human Rights Commission of India was also instituted by the Parliament of India with a view to realize the cherished goal of equal rights and life opportunities for all people.
Since its inception in 1993, the NHRC, India has played a pivotal role in the enforcement of the fundamental rights outlined in our Constitution and those contained in key international human rights instruments to which India is a party. In addition, it has done much by way of spreading human rights awareness and sensitization among governments and members of civil society on the importance of safeguarding human rights.
We have retired Chief Justice of India as the Chairman of the National Human Rights Commission, that itself shows our commitment to Human Rights.
However, despite this formidable human rights protection framework and the significant strides we have made since our independence, there are several human rights challenges that continue to confront us as a nation.
Poverty is perhaps the biggest affront to human dignity and fulfillment and among the major challenges to realizing a truly democratic India. Rapid strides have been made since independence but a sizeable proportion of India's population lives below the poverty line.
We are all engaged in eradicating poverty. We have chosen the path of inclusive growth that is including the people in the developmental agenda of the nation. Welfare measures taken by the government such as Jandhan, Mudra and others are moving in a direction to eradicate poverty.
In this regard, India is committed to implement Agenda 2030 on the Sustainable Development Goals (SDGs), which are rooted in a human rights approach towards ending poverty and other forms of discrimination and inequity. The government is taking proactive measures for ending poverty and hunger, improving health and education, making cities more sustainable, combating climate change, and protecting oceans and forests.
India has taken steps to make the right to education a cardinal principle of state policy. Universal access to education and creating a literate world has been the focus of governments. However, there are challenges in terms of illiteracy and quality of schooling. Literacy is crucial as a human right and also for successful functioning of democracy and socio-economic development of the country. Although according to 2011 Census, the literacy rate has risen to 74.04 per cent, the female literacy rate stands at 65.46 per cent. I believe that democracy can effectively flourish only when people know their rights and privileges and also their duties and responsibilities.
Women empowerment and gender equality are important issues for our democracy as the position of women is still precarious, especially in rural areas, despite the fact that women, according to the 2011 census, comprise 58.7 crore (48.5%) of the country's total population. Gender inequality is among the key social disparities that keeps large numbers of women on the margin of 'new India'. Poor literacy rates and discrimination is education against the girl child have contributed to enhancing the vulnerability of women in society. There has been some improvement in the last 10 years in the sex ratio but challenges of female feticide and pre-natal sex selection persist. I am happy that programmes like 'Beti Bachao-Beti Padhao' are being taken up responding to these challenges. The right to shelter is another right that impacts the quality of life. India has embarked on a number of programs that seek to make this a reality.
The challenges of caste and communalism are major challenges to Indian democracy which serve to weaken the stability of the country with the potential to disrupt peaceful co-existence in our multi-religious and multi-cultural society.
These challenges are sometimes being exploited for personal, political and sectarian gains and that is a big challenge to us.
Indian democracy has also been confronted with terrorism and extremist violence both of which tend to trample upon the right to life and liberty of individuals. Any violence and senseless killings are the worst forms of violation of human rights and need to be dealt with accordingly.
We as a nation believe in peaceful co-existence, but unfortunately some people take terror as a state policy. Terror has no religion, but unfortunately some people are give a communal colour and using it as protection. "Terror is the enemy of Humanity"
I hope the United Nation Security Council completes the consultation at the earliest, and come to conclusion to take firm action against terror.
Corruption poses a serious development challenge and is a violator of people's rights. In the political realm, it undermines democracy and good governance by subverting formal processes.
'Justice' has and must continue to remain the first principle of social and political institutions. The notion of justice focuses on a sense of fairness and protection of rights guaranteed under various laws of the land. However, the speed and alacrity with which justice is done is important. Human rights of all law abiding citizens must be protected with timely objective dispensation of justice.
Today's Human Rights Day marks an importance milestone for not only India, but the world at large. The true test of 'good governance' is the degree to which a State delivers on the promise of civil, cultural, economic, political and social rights. Thus, the key benchmark for judging effective governance is whether or not public institutions are effectively guaranteeing rights such as right to health, housing, food, education, and justice, besides ensuring effective safety in the country. This is the ideal world view we have inherited from ancient sages who said 'Sarve Janaah Sukhino Bhavantu' and also from the founding fathers who advocated the Antyodaya approach.
Our country's cultural ethos has human rights as the underlying principle. It recognizes and respects human rights of all human beings. Living together without aggression and learning from others around the world has been our world view. Ours is a land that had said at least an million years ago: "aa no bhadrah krathavo yanthu vishwathaha" Let noble thoughts come to us from all over the world.
It is heartening to note that the NHRC, India on its part has been striving to protect and promote the constitutional rights of the common citizens, and has gradually expanded its scope of activity to embrace newer human right challenges and concerns with a view to promote a culture of human rights in the country.
On this momentous occasion, therefore, let us re-dedicate ourselves to our shared mission as Indian citizens to uphold the dignity and rights of all people of the country and infuse our national consciousness with the spirit of the greatest respect for all human life and our natural environment.
THANK YOU, JAI HIND!
Message from Mr. Justice H.L. Dattu, Chairperson, National Human Rights Commission, India on the eve of Human Rights Day-2018.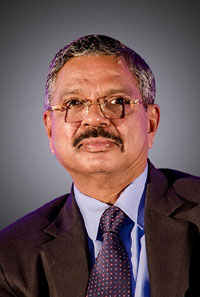 New Delhi, 9th December, 2018.


"Tomorrow on the 10th December the world celebrates Human Rights Day. On this day in 1948, the General Assembly of the United Nations had adopted and proclaimed the Universal Declaration of Human Rights. It is in commemoration of this Universal Declaration that a Day is dedicated to remind people to stand up for their and others' rights.

This Human Rights Day assumes special significance for the NHRC, India as it is celebrating 25 years of its existence promoting and protecting human rights in the country. The protection of human rights is a Constitutional obligation of the State as well as the duty of a citizen, which we all must value and be guided in our lives for a just, happy and prosperous nation.

I am confident that by imbibing respect for human rights as a way of life, we can actualize a fundamental change in our collective efforts to eradicate the scourge of poverty, ignorance, prejudices, and discrimination based on sex, caste, religion, disability and other forms, within our society.

Therefore, the only way forward is to spread awareness and work consistently towards creating an atmosphere, where people live in harmony and instead of being the reasons of creating problems become agents of resolving them.

The National Human Rights Commission, India was set up in the year 1993 for better promotion and protection of human rights of every person in the country. On the eve of Human Rights Day, we rededicate ourselves to continue this mission.



Jai Hind!!"




Excerpts from the Inaugural Address of Mr. Justice J S Verma, the then Chairperson, National Human Rights Commssion on the occasion of the inauguration of the Indian Institute of Human Rights on 10 December 1999 (Human Rights Day) at New Delhi.
Today is the Human Rights Day and I am glad to note that the Indian Institute of Human Rights is being established on this auspicious occasion.

All members of the human family must be treated as equal - equality being a human right.

Human Rights are all those characteristics or attributes that are essential to life with dignity. The violation of human rights occurs when any act, or omission to act, results in a conseqence that is inconsistent with the dignity of the individual.

Human Rights are natural rights which are non negotiable and do not depend on conferment by any authority. They are inherent in human existence. Enacting law is not enough unless there is a change in the thinking process of society as a whole. The remedy lies in education within the family, from the earliest stage of life and throughout society.

The acknowledged index of civilisation for each country is its track record of respect for human rights in the country. There is an urgent need to rededicate to the upliftment of the common man and for developing a human rights culture in every sphere of life and in the instruments of governance.

The main objective of the Institute should be to make the Protection of Human Rights Act as effective as possible by reading into it the intent behind the legislation and interpreting that to its fullest extent. The National Human Rights Commission is a complement to the institutions of the judiciary.

The increase in the number of comlaints received by NHRC is indicative of the increasing violations of human rights in society. The greatest need is to increase awareness about human rights because every aware individual ceases to be a potential violator and instead becomes a potential protector.

I have great pleasure in extending my best wishes for the success of the programmes of the Indian Institute of Human Rights, New Delhi.